Carefur
The Problem

:

Pet owners need help tracking their pets' infrequent pet care needs.
The Solution

:

An end-to-end mobile application that

empowers users to co-parent their pets and stay up-to-date with infrequent pet care needs.
Role

:

UX/UI Designer, Branding & Logo Design
Timeline

:

80 hrs over 5 weeks
I adopted a cat at the beginning of 2020. He's my first pet and pet parenthood definitely had a steep learning curve. A few weeks before starting this project, I was really struggling with his feeding schedule — how much should I be feeding him, what was the best time to feed him? Also, if I were to return to the office, would I adjust the schedule or would I ask someone to come feed him for me? These questions and more made me realize that a mobile app could exist to help me with these problems and more.
I knew I wanted the app to focus on pet care, but I wanted to remain open-minded as I developed it. I decided to begin by

analyzing some competitors' apps

and seeing what features they brought to their users.
To further clarify what features I should include in the app, I decided to

interview five pet owners

to learn about their pets' care needs and their struggles with pet parenthood.
I started by

synthesizing my data into an affinity map

to see patterns across participants.
I really wanted to understand how pet owners were feeling, so I

synthesized my data into an empathy map

to succinctly capture their experiences.

My research focused on

pet owners with one or two pets, either dogs or cats

. This map is meant to capture their experience caring for their pets, which I utilized in my designs moving forward.
From here, I proceeded to

brainstorm some potential problems

to solve. For the first wave of this project, I decided to focus on one area of improvement, which was helping pet owners track their pets' care needs.
As I was approaching the layout for the app, I knew that the Pet Profile page would be the most important in terms of the task tracking feature. I used

Google's Crazy 8's exercise

to rapidly sketch some potential solutions.
Once I settled on the design of the Pet Profile page, I

sketched out the other key pages

for the app. I wanted to be sure there was a common visual language across all of these essential screens.
When it was time to build my mid-fidelity wireframes, I wanted to

create flows & screens that were familiar to the user

. The purpose of the app is to make their lives easier, and I felt the user should spend as little time as possible learning how to use the product.
UI & Logo Design
I wanted the logo to

center on the animals

. This iteration of the app focuses on dogs & cats, so I wanted them to be part of the logo.
Given the app's goals, I also wanted to

tie in a representation of pet health

. I sketched a few ideas, and narrowed it down to three contenders, coupled with three names for the app.
For the branding, I started with pastel colors because I wanted

something playful and lighthearted

. I wanted to capture how I think people feel about their pets in the colors and visuals. However, as I built my color palette, I decided I wanted a

darker color for contrast

, which is how I landed on the primary color.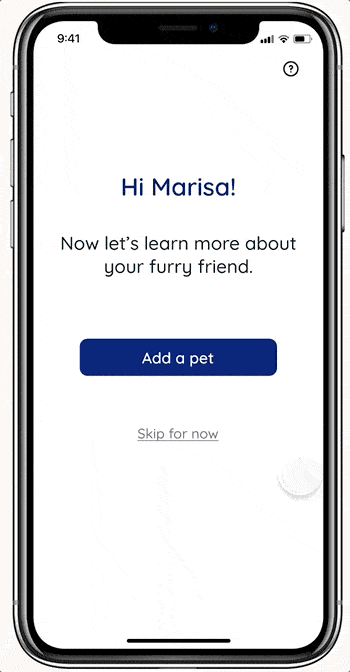 After creating my high-fidelity wireframes, I built a prototype to be used for testing. I built out a few important flows.

I first focused on the account creation experience and adding your first pet to your account. I felt this flow was important because it

sets the tone for the entire experience.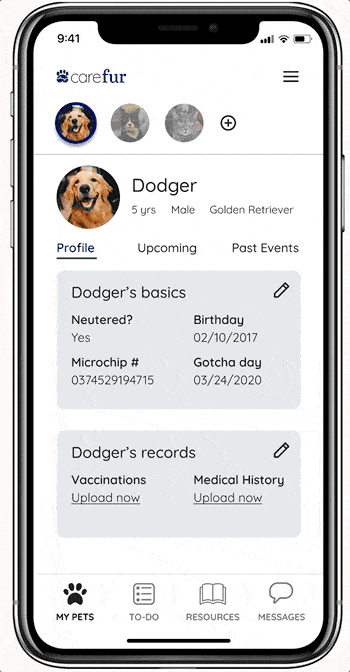 I also wanted to test the

ease of adding and editing events for a particular pet

. I also hoped this flow would lead my test users to further engage with the app and understand its function beyond the test flows.
Time to Test
I

sat down with five more pet owners

to take them through the prototype. We focused on account creation & adding an event to the pet profile, and discussed their impressions and satisfaction with the experience.
"I can see me and my boyfriend using it - it's applicable to our lives right now, with our new dog."
"I have trouble keeping track of everything for our dog on my own. This would help both of us with remembering to give him his medication."
All of these interviews

produced in depth conversation beyond what I had initially expected

. People were really excited about the app, and wanted to learn more about the other features it would include.

They asked questions that sparked dialogue and provided me with inspiration for future iterations of the design, including:
As a result of the usability testing, I

implemented a few changes

:
I changed the appearance of events that have already occurred to

communicate more information visually

.

I would definitely want to

run some A/B Testing

to confirm that these changes are clear for the user.
I built an additional screen so that, when the user clicks on an event, it shows the event details with the option to edit. This will

provide error prevention,

so the user doesn't unintentionally change the event details.
I received positive feedback in general about listing both the pet's birthday and gotcha day, but a few users expressed concern that they didn't know one of these dates, so they weren't sure what to do at this step.

While I'd always intended for these fields to be optional, I added a label to

reduce user uncertainty.
Additionally, my testing, as well as initial research, provided me with

great ideas for future design sprints

. Below are some problems I would plan to explore in future stages:
Coming in, I had some pretty clear ideas of how I would want this product to work for me. I'm a pet owner, and I know a few functions that would help with my pet parenting. But I'm just one person! It was so helpful to sit down with other pet parents, and learn what was important to them. Some of my assumptions were confirmed, and some of my thoughts weren't shared by any of them! This re-affirmed the importance of research for me. Just because I could be the user doesn't mean I should build an app for me — that's neither inclusive nor practical.
Speaking of the importance of research, I found the time I spent with my users invaluable, and it went beyond the questions that I came in with. Particularly with my usability testing, I had very vocal and creative participants, who were willing to engage with all functions of the app, especially those that weren't built yet. We were able to ideate on the additional features, and they were willing to share in depth how the app would apply to their lives. It was like getting a second round of my initial research, and gave me a clear path forward for development.
I would like to do A/B testing with some of the adjustments I made to confirm that they perform as hypothesized. I also skipped card sorting with this particular project due to time constraints, but in the future would fit it into the process to prevent the aforementioned personal bias. Finally, while I chose to only focus on dogs & cats for this project, it may have been worthwhile to accommodate for a wider variety of pet types from the beginning. While my intention was always to add more pet species in the future, it may be more difficult once some elements of the flow are set in stone.
Want a closer look at Carefur?